Tuesday, September 18, 2018 in Milan the architects return to DJ for one night with the fifth edition of Dj Arch Night. The traveling initiative organized by Towant, with this year involving 40 Milanese studios and 12 design showrooms.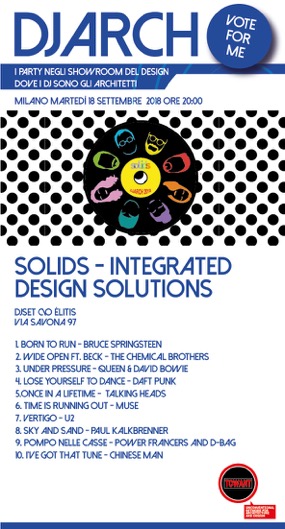 The claim for this edition is Music is architecture when architects become the Dj.
For one evening the architects, as a sound designer, perform with their sound projects, a real musical journey among the major streets of Milan design. During the evening, starting at 8.00 pm, the architects mix their own playlists live with the support of professional Djs. The Solids studio will be participating together with 02Arch, Baldessari and Baldessari, Roberto Murgia Architetto at the Élitis showroom (via Savona 94).
Related posts